QUARRY
A Novel by Meredith Ann Fuller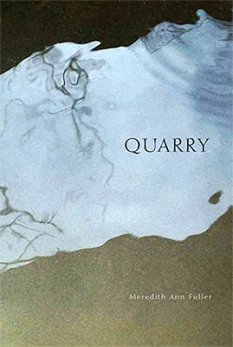 In Quincy, Massachusetts, a young girl of Finnish and Irish descent loses her father under traumatic circumstances and sets out to learn what happened to him. Intuitive, naïve, implacable, Rose learns to read landscapes of the natural world and the human heart. She confronts history and its suppression. But it will take personal risk and imaginative reach to understand that she is part of a much larger story of immigrants to America. With edgy ordinariness, Fuller's narrative gift describes secrets and tragedies, slowly revealing the riskier mythic underbelly of every good story. Joan Anderson's illustrations evoke the enspirited worlds of characters ranging across the United States and Finland. Resurrecting a lost 19th century tradition, Quarry is a stunningly illustrated novel for adult readers of our time.

Hardbound, 324 pages
Published by Mountain Water Press
Holiday special pricing: Quarry is available at 50% off the retail price: now $20.00. 
Additional copies, $15.00 each.
---
Reviews
See what literary critics have said about QUARRY.
"After losing her father, a Finnish-Irish girl slowly comes to understand her family and personal history in Fuller's debut novel.
In 1973, 7-year-old Rose Virkkunen is blind—a psychological reaction to her father's unexplained disappearance. A therapist helps to cure her, but Rose continues her quest to see things more clearly, especially through the art of photography. (Illustrator Anderson (Vector, 2011, etc.) provides Rose's artworks, which nicely bolster the story.) Rose slowly pieces together information and stories from both the Finnish and Irish sides of her family: "She was interested in history, but not the history her teachers taught. She was interested in the histories of people she knew." The place that she loves most is Summer Hall (aka Camp Karelia), where Finnish families come for the summer season; there, they stay in cabins, enjoy traditional saunas, and preserve their heritage by telling stories from The Kalevala, Finland's national epic. As she nears adulthood, Rose struggles with her sexuality and gets drawn into a destructive relationship. Meanwhile, she comes to understand the struggles of an older generation of immigrants, including the hard work that they did in quarries and shipyards. By the novel's end, she gains fresh insights about her father and herself. Fuller writes lyrically about a seemingly ghost-haunted world, often depicted in Rose's photographs, which sometimes combine phantomlike images. The book's opening is full of allusions whose meanings are initially obscure; for example, in an early therapy session, Fuller writes that Rose "felt them collecting in her mouth, the pieces of cedar bark. Her mouth flooded….And the white reindeer flew up, and the white reindeer flew down. Time wobbled and stretched out behind it like a rubber band, until time snapped." The meanings, however, are effectively revealed bit by bit as part of a mystery that readers investigate alongside Rose. Along the way, every line and image demands and rewards readers' full attention.
A rich, multilayered, and slowly unfolding literary work."
                   Kirkus Reviews, 15 March, 2017 Issue
---
"Though the novel, Quarry, is about human condition, Meredith Fuller has made it Finnish through her research into the political life of the Finnish immigrants, their culture, religion, their use of "Finglish" and especially the importance of Finnish epic poetry, The Kalevala. The sauna plays an important part in the story. Through the characters we are able search answers to questions that many Finns have been unable to even voice; nor have they been able to question religion and politics. Many have kept secrets that they have never revealed, never even dared to talk about. This has been true especially in politics where you have been afraid to mention that you or your relatives had at one time moved to Russia. The subject was taboo. The wonderful revealing illustrations by Joan Anderson are depicted in layers, just like the layers of the events in the novel that keep us in suspense. The Sami culture plays an important part in the epic throughout the novel."
                   Pirkko Karvonen
---
"Gracefully and powerfully written and beautifully designed, Meredith Fuller's Quarry is truly a volume made for lovers of books: a compelling tale complemented by dream-images that don't so much illustrate the story as bring it to startling life. Everything one could want in a novel."  
                   Pinckney Benedict, author of Miracle Boy and Other Stories
---
"A bold, risky, and satisfying debut, with a rich cast of characters and wonderful, evocative writing.  This is a joy to read!"  
                   Fred Leebron, author of In the Middle of All This
---
"Not a Finn herself, Fuller has . . . looked into their stoic eyes and seen the essence of their souls, that rise like steam in a smoke-darkened sauna. Her characters . . . are laid bare, flawed, wordlessly writhing in their humanity.  . . . not the romantic musings of an ethnic nostalgia writer.  No, these characters' souls are as darkly stained as their workingman's fingernails . . ."
                  Jim Kurtti, Honorary Consul of Finland, editor of The Finnish American Reporter
---
"Joan Anderson's exquisite photographs, drawings, and paintings both reflect the content and shape the reader's understanding of Quarry. These evocative images – more than 40 – illuminate the content, yet stand on their own as documents of this gifted artist and spirited designer. Her integrated design of the book makes reading a genuine sensory pleasure." 
                  Deborah J. Haynes, author of Book of This Place: The Land, Art, and Spirituality and Spirituality and Growth on the Leadership Path: An Abecedary.