Grasping the Nettle
Published Thursday, November 10, 2016
---

To my eyes, weary from winter, this soup is the greenest thing they've ever seen.  A shocking jolt of green!  As I ladle soup into a white bowl, the backs of my hands smart.  I recall yesterday's walk with friends, searching for morels along the bottomlands of the Platte. Last year's battered grasses were dull brown. In an isolated pond, a goose nested on a muskrat lodge. We found a discarded antler gnawed by mice. Here and there, skunk cabbage and violets fed our hunger for color. Finding no morels, we gave up on the ravines. Our feet slipped on dark wet loess as we climbed a steep trail to upland prairie. At the edge of an open field, bur oaks were stark against a cool blue sky. Native conservatives, bur oaks, unimpressed by a warm day or two. These giants looked down on us in the understory of smaller budding trees—ironwood, hackberry, hickory—with lofty skepticism. A blossoming redbud—so like a child rushing barefoot and sweaterless out the door when snow still lingers on the north side of the house.
Where sunny prairie meets the edge of forest, nettles are rioting! They don't give a damn about caution. Perennial agitators, nettles show up early at the barricades between winter and spring. They risk all. They die back, only to return in the great recurring cause of spring! Along with the morels for which we search, nettles are part of the whispering biome: a visible and invisible network, interdependent and so complex that we are only beginning to understand it. (Read Paul Stamets, Mycelium Running.  Read Peter Wohlleben, The Hidden Life of Trees.)
Driving back to Omaha, passing vast bare fields ready for another cycle of corn and beans, I thought about change. So much of the history of the lands west of the Mississippi is boom/bust. Unsustainable enterprises. An interesting balance of caution and risk is needed for survival. Many have failed, some have prospered, trying to get it right.  Where is Nebraska today, when it comes to that equation? Our towns? Our farms and ranches? Who has invested too deeply in the old ways for uncomfortable change? Who among us has the energy, let alone vision, to lift our heads from the work of just getting by?  And yet, we must, for the sake of the land, water, and jobs our children will inherit—or won't.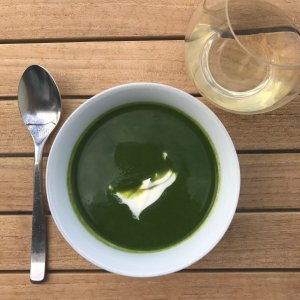 Back in my midtown Omaha kitchen, I sip a warm purée of blanched nettles, spinach, chicken broth, and buttery mirepoix. The texture is smooth and comforting. The flavor is shocking.This is the taste of  new life.  Of revolution.  But it is also the taste of old food traditions around the world.
I read an article in the paper that said something about a fad for nettles in upscale urban restaurants. The tone was bemused. Real men don't eat nettles. Modern women are glad to have a supermarket. Of course we are! But anyone who knows the history of  our settlers knows that cooked nettles infused winter-starved families with chlorophyll, vitamins, and minerals. Nettles jump-started weak immune systems and literally saved lives. Sure, I know the soup I can afford to make today, with crème fraîche on top, is a lot more palatable than what our settler grandmothers could make. Let's not romanticize. Subsistence agriculture was often cruel and bleak. But it is also "self sufficiency farming in which the farmers focus on growing enough food to feed themselves and their families.  The output is mostly for local requirements with little or no surplus trade." (Wikipedia)
Grasp the nettle! Do you know the expression? Some say it came from the discovery that the sting of a nettle grasped in the direction in which the venomous hairs lie, will be less potent than the sting of a nettle brushed lightly.
Let's stretch that metaphor. How painful might it be to shift farming practices away from mono-cropping, heavy dependence on fertilizer, pesticide, trademarked seed, and government subsidies? Imagine smaller-scale sustainable farming based on up-to-date research and demonstrated success.  Based on pooling information that is out there, right now—a rancher in North Dakota turning a better profit than his neighbors by restoring the health of his soil. Imagine old ways becoming relevant to our community's health again. Wheat that knows how to flourish on dry land. Sustainably raised meat that costs more to buy, costs less in undoing damage to our health, our land and water. Take a look at rancher Gabe Brown in Bismarck ND.  
Take a look at Keith Berns in Bladen, NE.  
Consider networks of producers within striking distance of towns and cities with sustaining markets, restaurants, and eaters.  Here's a story about a farm near Lincoln, NE, a food distributor, and an Omaha restaurant that shows how this interdependence can work.  
A prickly personality, the nettle, coming from chilly regions of Asia and Europe, immigrant to North America a long time ago. An immigrant that we try to avoid touching when we are out on our recreational walks.
Grasp the nettle means tackle difficulty boldly. Act with resolve, knowing the short-term result might be painful but the long-term result worth it. Do we want to repopulate our towns?  Welcome hardworking immigrants and help them become citizens?  Accept that our religion, our rural tribe—our traditional ways—are not the only ones? Have the vision and courage to risk change as we search for new ways?  To forage among the old ways for sustenance? For the future of our land, our children, if not for ourselves.  Resurgence of life is as fitful and inevitable as spring. Maybe if we go with the direction of things, not against it, it will hurt less. We might even make a good soup.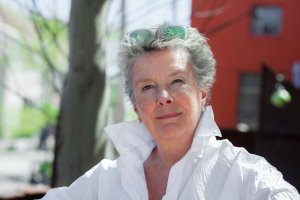 You can write me for my nettle soup recipe! I live in Omaha with my husband and two cats.  Meredith is aWelsh name.The Welsh were more looked down upon by the Brits than the Scots or Irish. Fuller is an English name. The clay, fuller's earth, extracted lanolin from wool. But fulling, the cleansing of wool, was first done with urine. That's my immigrant ancestry, folks—piss poor!  Willing to pick up and move on.  Most recently, from Massachusetts to Nebraska. My novel, Quarry, a Finnish-American mystery, is a story of immigrants to America.  Quarry is available for purchase through Amazon or my website.  It is richly illustrated by the artist, Joan Anderson.